Khaki Windowpane Custom Blazer
$ 479.40
Make a bold statement in this khaki windowpane custom blazer. Show off your risk-taking side with this unique pattern and design. Dare to stand out and wow your friends in this modern, captivating piece. Unleash your inner adventurer!
FABRIC CODE: DBV153A 

89% WOOL 11% LINEN 
FABRIC WEIGHT: 270 G/M 
Design style in pictures is for reference only.  This product is Custom/ Made to Measure only and can be designed to customer's style preference.  Additional fabric colors are available.  Custom attire generally takes 4-5 weeks.  
AS SHOWN
Jacket
Two-button single breasted jacket
Standard Notch Lapel 
Two back side vents

Arc breast pocket
Normal lower pockets  
Interior Lining style: 1/4 lining, binding inseam 
Real sleeve slits with real buttonholes
View product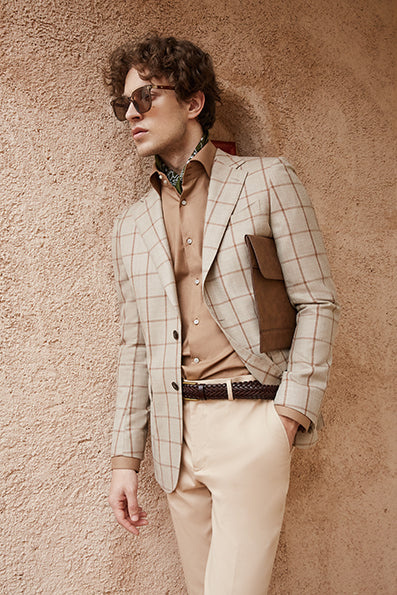 About Us
FASHION IS WHAT YOU BUY.......STYLE IS HOW YOU WEAR IT!
Welcome to STYLES BY KUTTY (SBK), an online men's retail store that provides custom clothing, hand made shoes, ties, bow ties, pocket squares, cuff-links and other accessories for the fashion conscious man. 
SBK realizes that a man's wardrobe is an important part of his image.  SBK is committed to keeping men on the cutting edge of fashion by offering men's accessories that can be characterized as fashionably elegant, yet affordable. 
In June 2020, the company launched ExKlusively Tailored, which designs custom clothing and accessories for the professional woman who has a strong sense of self confidence and is fashionably styled.